Our Culture. We Love What We Do And It Shows.
When you build a company around the idea of doing more, it's amazing how it becomes so ingrained in the culture. It all starts with our employees. We couldn't be the organization we are today without their commitment and incredible dedication. It is each employee's responsibility to elevate our level of service and to be personally accountable to the people we serve. You can see it in their passion, vision, the way they support each other and the community. Together we are committed to empowering healthy communities. We prove it every day, not just in words, but in actions.
A Culture Of Doing
At DCPG, our culture is based on teamwork and collaboration. Without question, that is the most effective way to solve problems, drive innovation and give the best possible attention to our employers, members, brokers and dentists. Committed and valued people make good decisions and teamwork makes things happen. Together, we can take on any challenge and overcome any obstacle.
A True Commitment To The Communities We Serve
Our roots run deep in the communities where we live and work. As an organization, we serve several charitable causes and community organizations because it's our mission to give back to the communities who have given so much to us. But it's not just financial support, it's human support as well. Our employees consistently volunteer their time and effort to make a difference and help those in need. 
DCPG Is A Major Supporter Of United Way
In support of The Dental Care Plus Group's commitment to empowering healthy communities, DCPG supports organizations that work to enhance the lives of our neighbors. We have put our strong financial support behind United Way for many years with our Annual United Way Employee Fund Drive. The Dental Care Plus Group also raises funds for United Way and United Way-supported charities through other avenues throughout the year.
DCPG Supports The Cincinnati Children's Dental Care Foundation
There is a fast-growing population of children in the Greater Cincinnati area with serious dental care needs and special oral health conditions. DCPG is a proud supporter of the Cincinnati Children's Dental Care Foundation, which works to address those needs.
Bringing Much-Needed Smiles To Kids' Faces.
DCPG is a happy supporter of UC Smiles. The program is designed to ensure students receive needed preventive care while also exposing them to a college environment. In addition, DCPG is providing a clinical education opportunity to dental hygienist students at The University of Cincinnati, Blue Ash campus.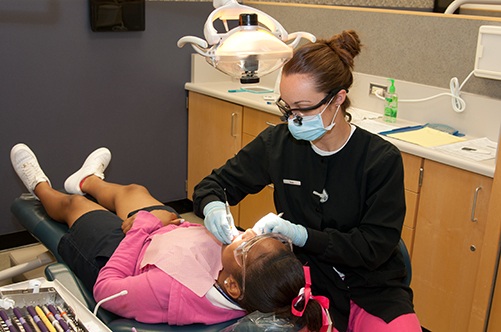 DCPG Cares About Customer Service 
At DCPG we are committed to our members, employers, brokers and dentists. We put customer service first every day, and it shows not just in our commitment to our stakeholders, but also in our team. In most companies, customer service has the highest turnover of any department. At DCPG, our customer service team has the lowest turnover of any department, with the average length of service for a customer service employee being 10 years. People love what they do and it shows. 

Commitment to Training
"We put emphasis on training people so they're ready to service our customers from the first call they answer. We don't want customers to talk to an 'undertrained' employee. We continually strive to keep our employees up-to-date with the information they need to make each contact with our company a satisfying experience for all our customers." 
Jodi Fronczek
Chief Operations Officer